We're a team of innovators fueled by our mission to improve people's lives with quality healthcare. 
We're proud of the growing business we've built and the value we deliver to our customers and members.
I munge through messy data to tackle problems that have never been solved before. I love coming to Grand Rounds everyday knowing I'll work on technical challenges that stand to solve the health challenges of millions!"

Jayodita

Data Science

I am proud to work with an incredibly motivated team to improve the health outcomes of our individual patients and the healthcare landscape at large."

Nancy

Patient Care

When you surround yourself with greatness you simply can't help but achieve GRANDness. Our GR team is blazing the path to reaching and helping even more people."

Dymphna

Employee Experience
As a leading health-tech company, we're changing the world with cutting-edge technology, data insights, deep clinical expertise, and a world-class team—to make quality healthcare a reality for everyone.
Reimagine
Unleash the power of data, technology, and compassionate service to transform healthcare.
Personalize
Accelerate your career while making healthcare smarter and more personal.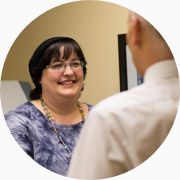 Impact
Do work that matters for hundreds of millions of people and a $3 trillion industry.
Real people, real impact.
Lynn's Story

I'm just so incredibly grateful that Grand Rounds has been there through this entire process. The entire Care Team has been such a support system — they are the friend and doctor you need in the scariest time of your life."

Ana's Story

I am very thankful for my team at Grand Rounds for providing my second opinion. The opinion pushed my doctors to move faster with certainty for my hysterectomy. I certainly think it was the right decision, and having the outside opinion reassured me and my doctors."